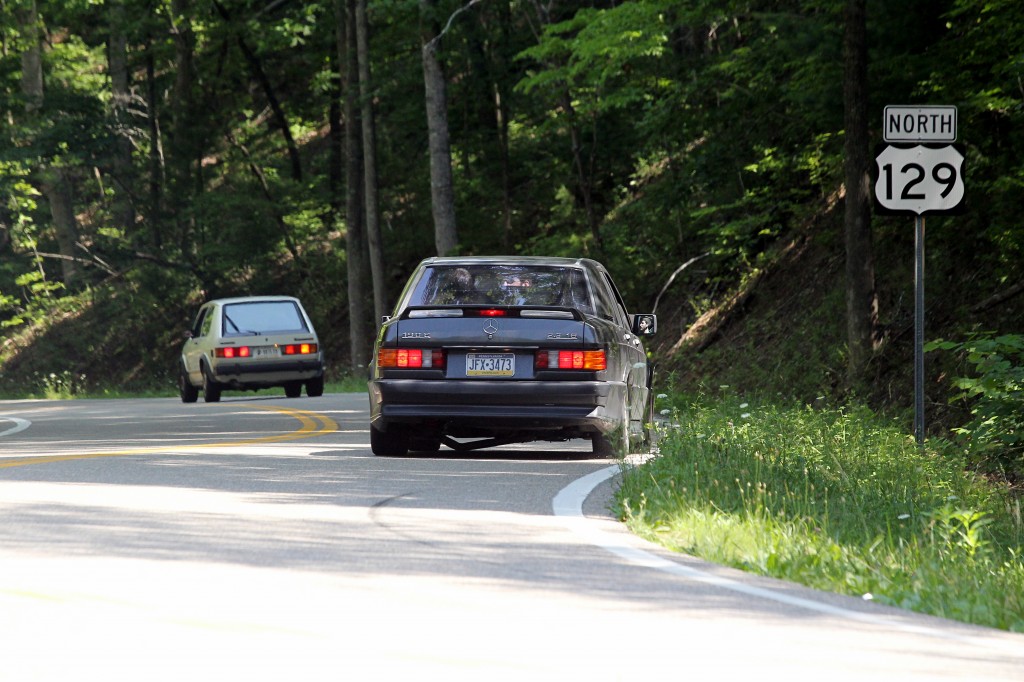 From Taylor, BlythBro #1:
I initially heard of the 'Tail of the Dragon' through a friend about four years ago and had (regrettably) never done any research or looked for footage from the twisted roads of which he spoke. He had been down there in his stupid-fast Integra and told me that various car clubs usually hold a meet there every year or so. Lucky for me, I had recently purchased a 1987 190E 2.3-16 and was all set to start work in eastern Tennessee for summer of 2013. I knew the car needed some work to get it back to its original Bremen-spec racing form and had invested in a new suspension to start things off. Graham, just four and a half hours away, decided to stop by for the weekend to take me to meet up with a few of his friends at the Dragon.
Graham showed up at my place very late Friday and we noticed that the 190E was running a little louder than normal, as it was fresh off a natural muffler delete. Graham and I were able to pull a rear wheel up onto a sidewalk as we needed a quick solution to get under the body kit. Some 10 gauge wire strung to the rear control arm was good for holding up the remains of the cat-back system. It seemed somewhat stable. The new suspension, Bilsteins and H&R sports all around, had about 6 hours of total driving on them- including none by myself. Graham did the work on my car over at his place as I got to hoon around some nuclear laboratory lots in his GTI for the week. The fabled SLS system had failed/leaked beyond what I was willing to pay to fix and the decision to eschew it in favor of standard struts was not too difficult to justify. For any concerned purists- the SLS components have been living out their days in a very nice bucket in Indiana. Other issues such as a slight oil leak, idle issues, and very worn tires brought my 16v down a bit from its perch as a top-notch driver's car. The 1984 GTI was much more aptly equipped in terms of tires (Dunlop Star Specs), brakes, and- perhaps most importantly- driver ability (an experienced autocrosser and former FSAE driver… whereas I am the type who sometimes dares to lay down some clutchless shifts and is no stranger to hypermiling).