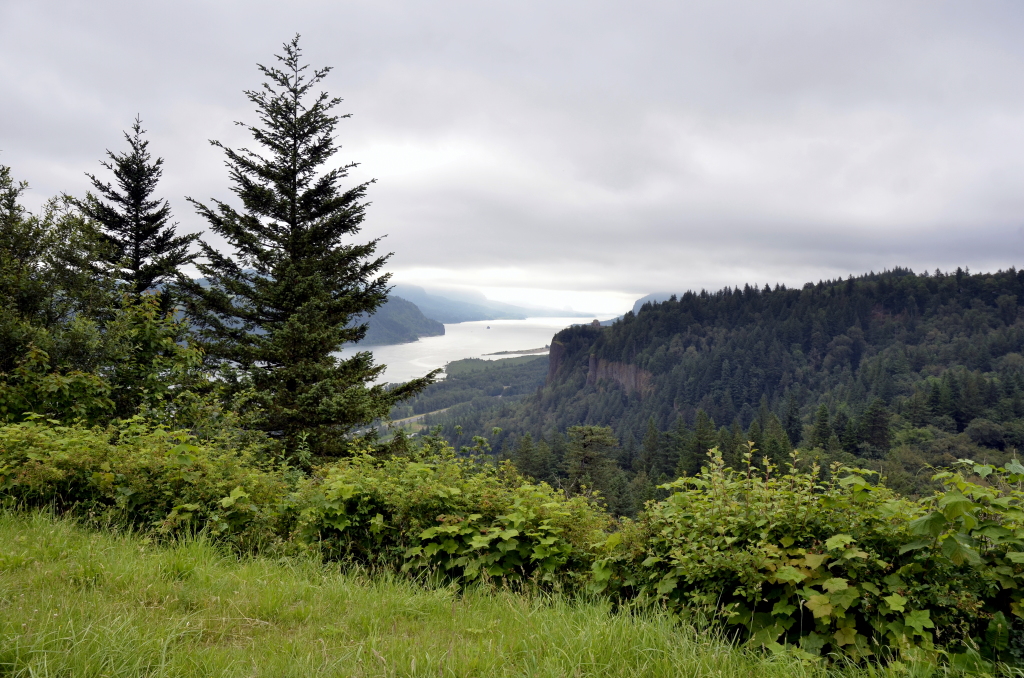 Just east of Portland, above the Columbia River, lies Corbett, Oregon, a swath of utterly tranquil American landscape.  There, the Historic Columbia River Highway permits glimpses of the river valley, where conifers and diffuse light from low clouds conspire in a vivid scene with the rock cliffs and the water below.  Stray from the RV-friendly scenic highway, and your gaze shifts from the horizon to the pitch-black switchbacks lined with red pine needles.  The road surfaces are too unforgiving to enjoy a stiffly sprung sports car, and with the light bicycle traffic, the ragged edge of tire adhesion is off limits.  Enter the Italian sports sedan.
A month of standing sentinel over "Alfa Romeo Milano Verde" on a Craigslist, a year with a rewards credit card, and a two hour garage blaze culminated in an impromptu flight to Oregon to retrieve my latest object of obsession. The mere sound of the approaching Busso V6 as the seller pulled up to pick my girlfriend and me up from our AirBnB in Portland affirmed my decision to buy; the seller's small-talk, abridged life story affirmed my latest life decisions.  Oregon is one of very few places where you might meet a man who decided to append his automotive engineering degree with grad studies in environmental science because he didn't respect what engineering represented in the 70s – one of the few places where you might meet a man who quit his job 4 years out of school because he "needed a vacation".  Instant affirmation.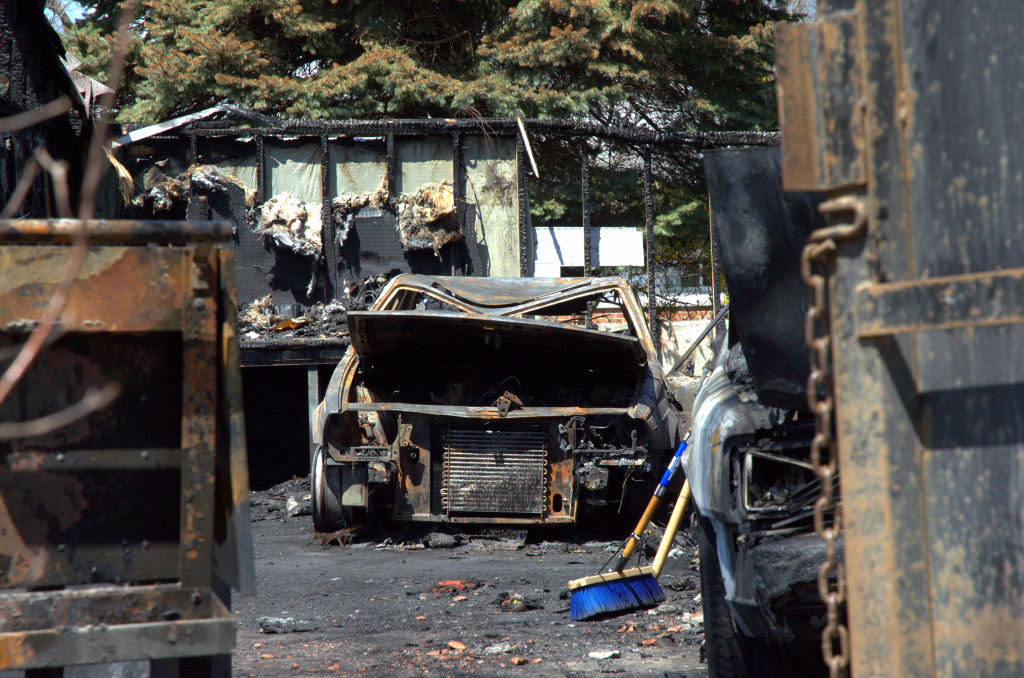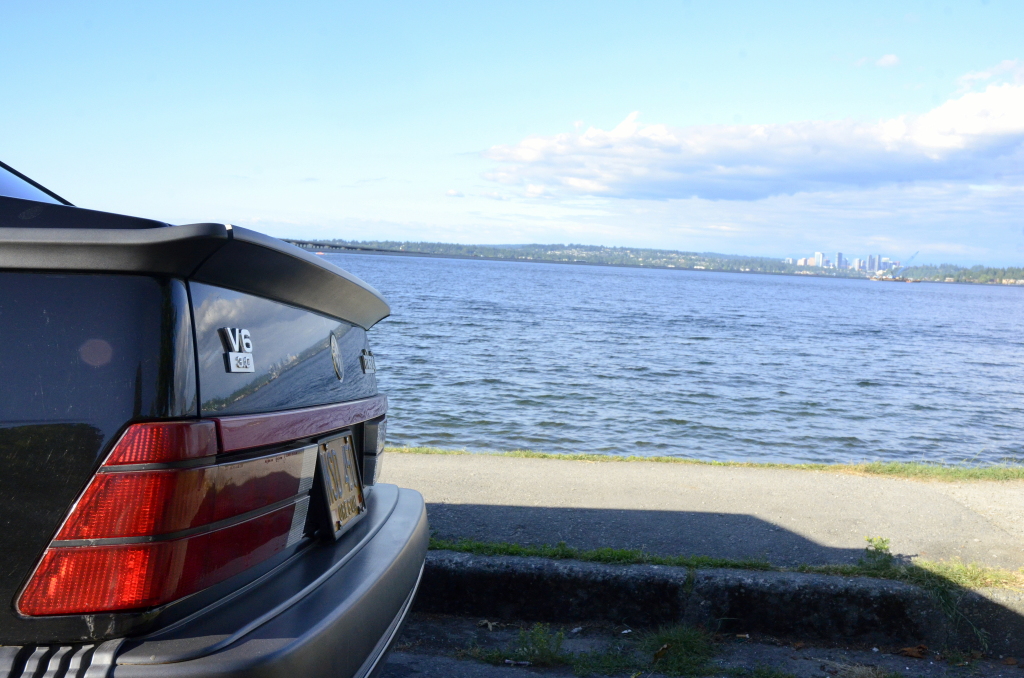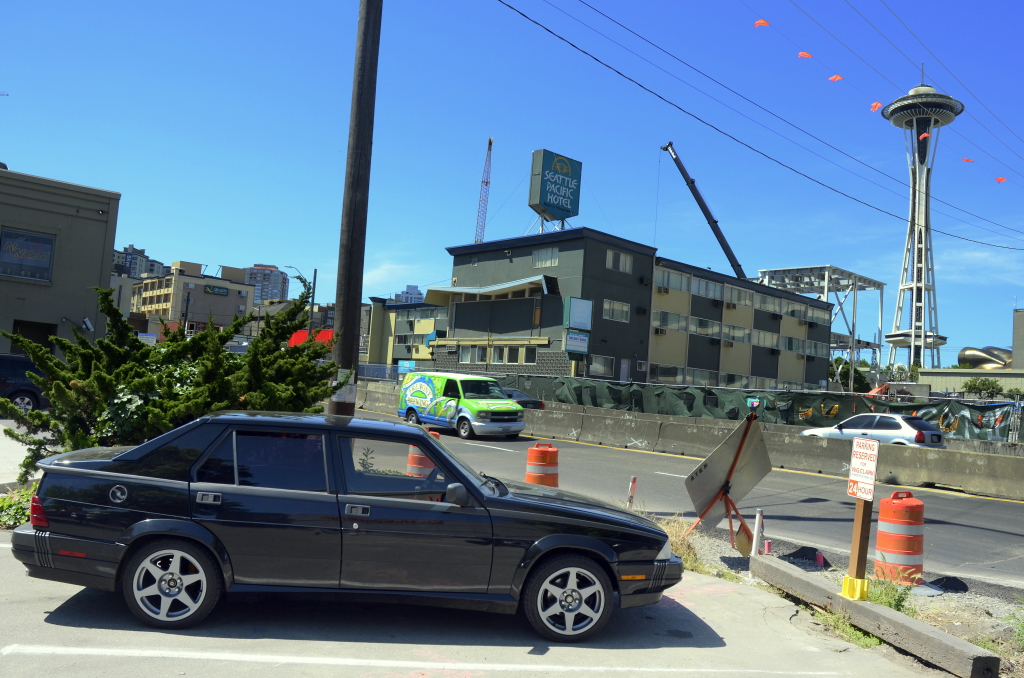 Meet me at a party, and it takes fewer than 2 minutes for me to start making excuses for Alfa Romeo.  My history with the marque leads some to even suggest that masochism might be involved.  I won't say that Alfas have treated me particularly well.  Had Alfa placed some baffles in the oil pans of their 24V cars, I might still have my gorgeous, yacht club spec 164LS.  And, where do I begin with my old Milano – seriously, an engine that can't be turned over backwards?  Really?  Sure, I wouldn't blame them for the flimsy aftermarket mechanical timing belt tensioners, were it not for the fact that they sold hundreds of thousands of cars with a hydraulic timing belt tensioner that leaked enough to warrant a redesign.  In my experience, Alfas are the only cars susceptible to fire should you press the throttle while starting the car.  Unforgiving, Alfas.
And yet, I don't take it personally.  I'm sure Alfa didn't intend for me to spend a Michigan winter in my unheated garage to master the nuance of 12V Busso V6 timing belts, rebuilding yet another set of heads.  Maybe the engineering department was on strike during that critical period of the design phase where the effects of corner loading on oil pressure are reviewed.  Whatever their cause, I will admit that some design flaws made it into production.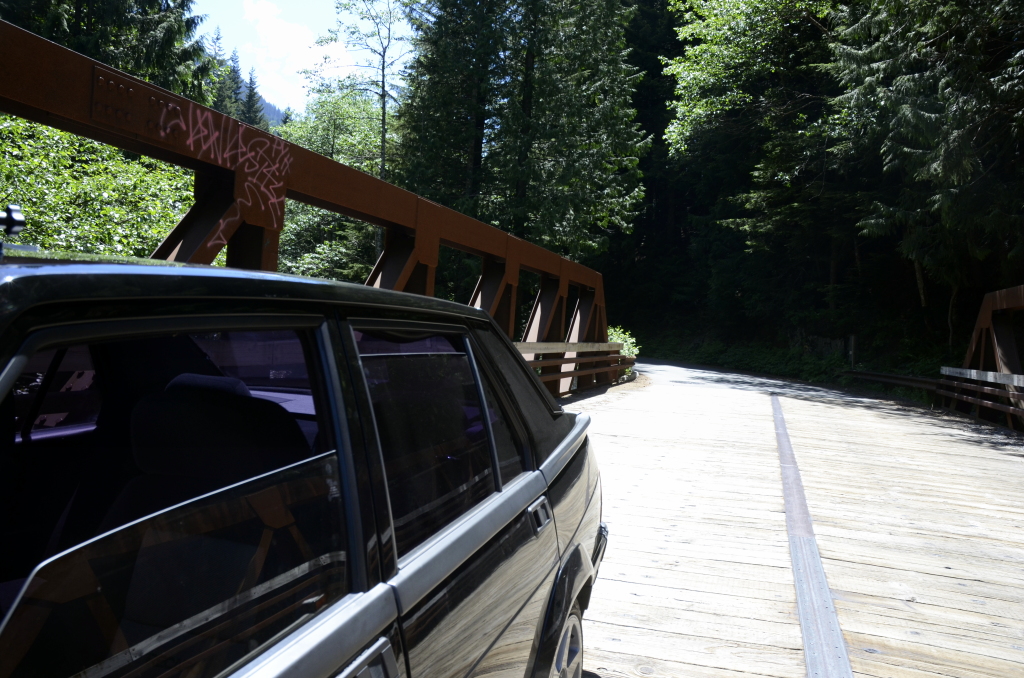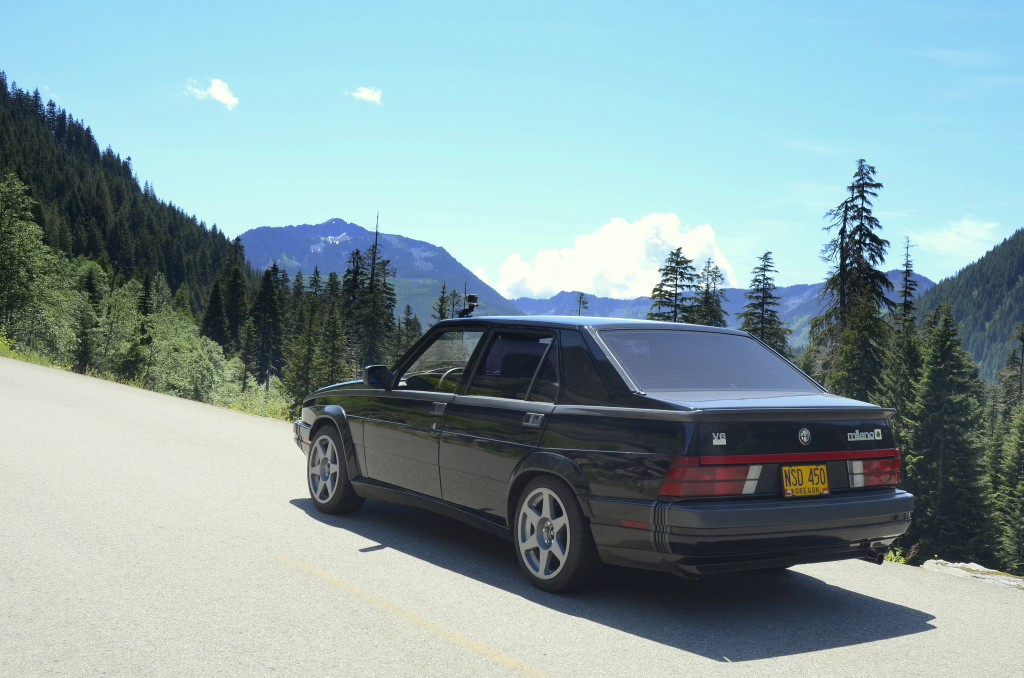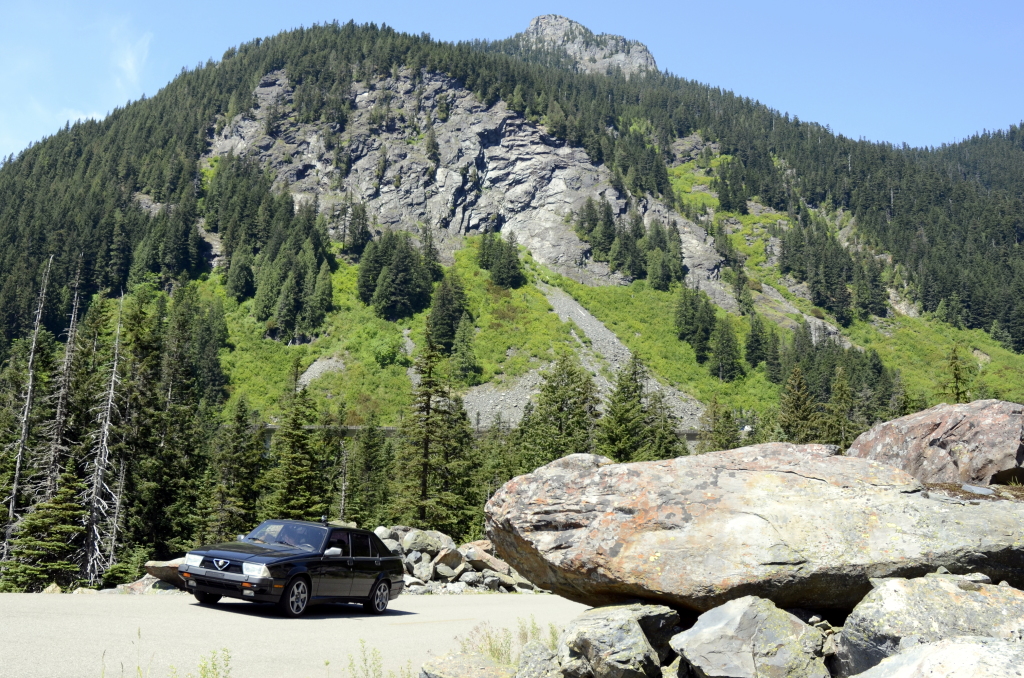 The flaws I could live without.  It's my understanding that some car enthusiasts autocross and even track their cars, and in spite of that mechanical thrashing, get away without needing much more than a brake fluid, or diff oil, or brake pad change.  That's enticing.  Rebuilding every system on your car will establish an intimate bond between owner and vehicle, but so will 10/10 on a racetrack, and only a very perverse minority would prefer the former.
So what is there to gain in the struggle, besides the questionable bond with one's machinery?  Progress in the pursuit of expertise, for one.  Two engine rebuilds, a brake system overhaul, rust repair, electric troubleshooting, a comprehensive suspension refresh – the resulting knowledge base snowballs into something with dubious utility outside the circle of your specific cult car.  But, when you receive a text message with a hyper-specific question from an enthusiast forum mate (everyone freaks out when they see that groove in the first rod journal on a Busso V6) and you fire off an instant, informed response, you can't help but feel validated in your struggle.  Sure, resort to Google for the simple questions, but there is a sweet spot of mechanical experience, guided by a shop manual, that is both tolerable and supremely enjoyable.  Often, it starts with mechanical failure.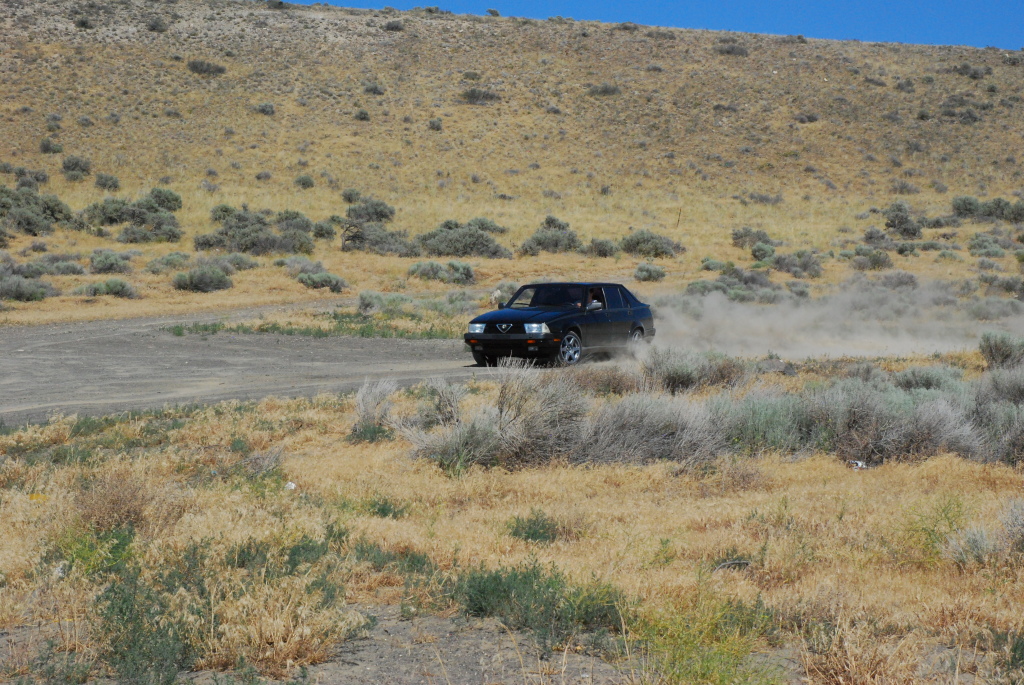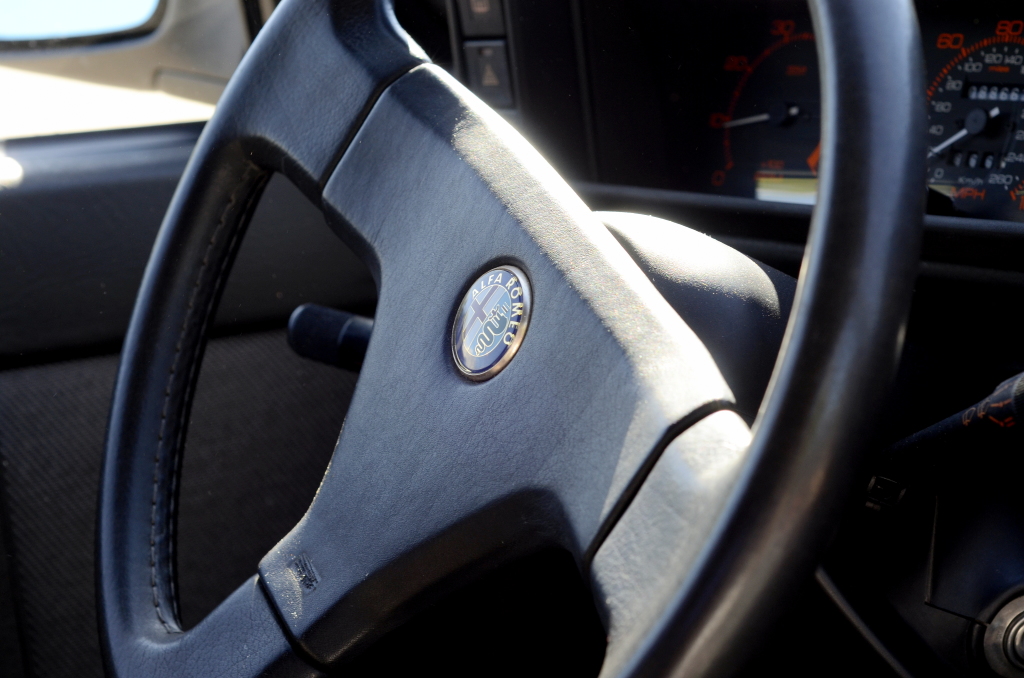 No more than two years after declaring that I wouldn't buy a car sight-unseen again, there I was, thousands of miles from home, about to embark on a journey across more than half of the country in a car that I knew so well, yet had never touched or seen.  Since the Pacific Northwest is gorgeous, and I was on a rather tight timeline, I invited my girlfriend to help with the drive.  Or she offered.  Either way, she's fortunately a bright engineer, who's weathered 6,000 miles at 4,500 RPM in my 84 GTI before, but very few people are amenable to the uncertainty surrounding mechanical failure in the middle of nowhere, and she's no exception.
Knowingly, I troubled some Oregon-based internet acquaintances with the task of inspecting my Milano prospect before I committed to a cashier's check and a flight to Oregon.  The car – and the seller – checked out.
Perhaps my girlfriend was on to something.  She called me out for my hubris a minute into our decidedly blithe departure from the seller no sooner than a minute into the trip; a minute later, and we were pulled to the side of the road.  I couldn't depress the clutch pedal – our hearts sank.
At this juncture, we had to choose between returning to the seller for assistance or coming up with an interim solution to get us to my girlfriend's sister, a couple hundred miles north in Seattle.  Drawing on past experience with a clutch hose failure, I knew that the hydraulics were intact, and it was just mechanical binding preventing me from pressing the clutch pedal.  The clutch pedal responded favorably to some intense jiggling and we were off, the nearest Harbor Freight clear in our sights.
We bought some peace of mind at a Harbor Freight in Portland and starting making our way north to Seattle.  As soon as I crossed the bridge into Washington, I wound up with a speeding ticket.  I think I was in third gear.  Last year, on the first night of breaking in my old Milano following the engine rebuild, I also got pulled over for speeding.  In both cases, I was utterly lacking in documentation – including insurance, registration, license plates – but after receiting "Alfa Romeo Milano Verde" a few times for the officers, they were content with the modest ticket revenue and let me drive off with a minor speeding ticket.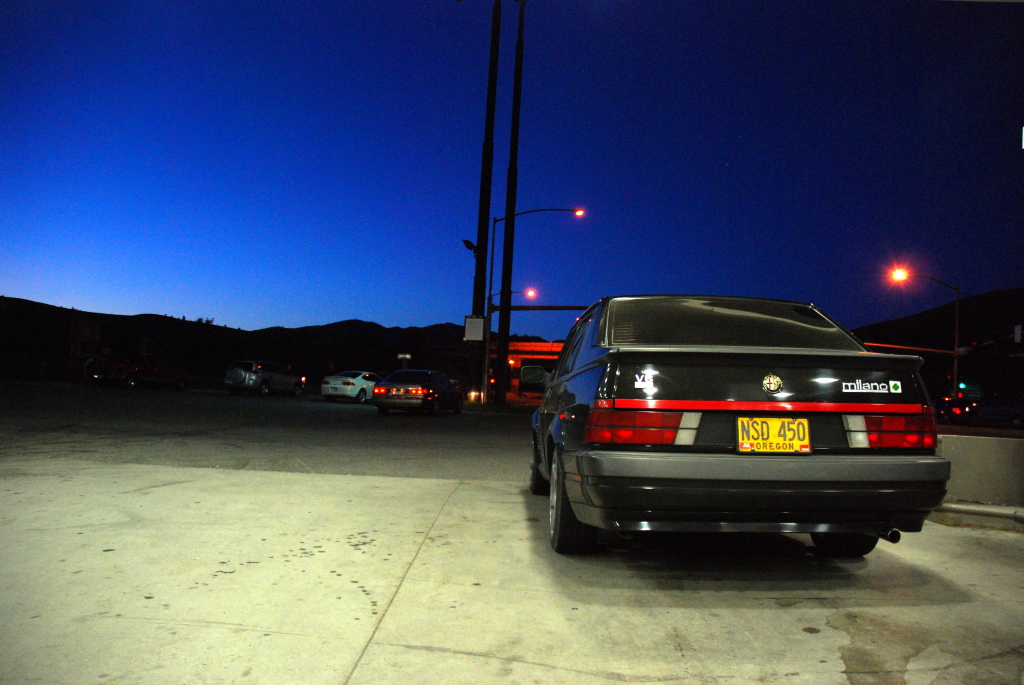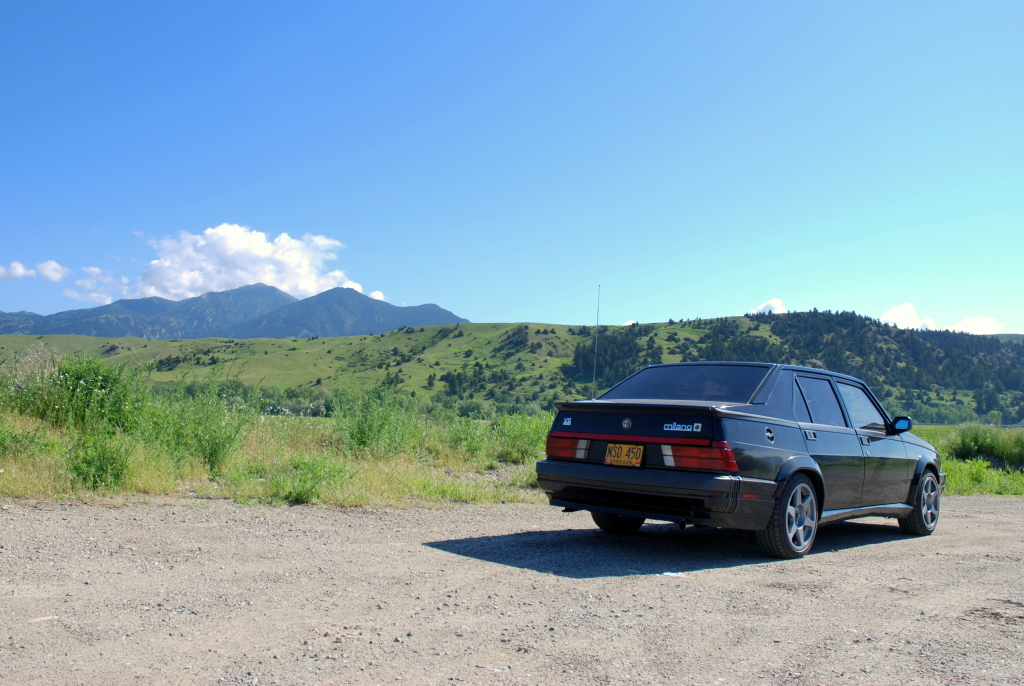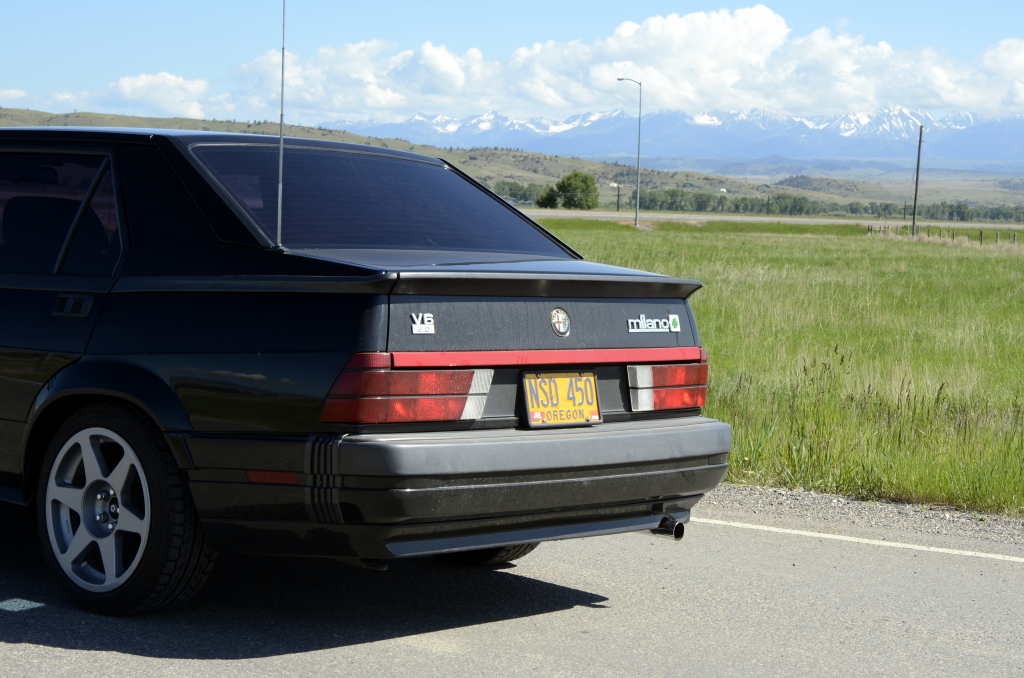 It really shouldn't be so difficult, but for me, I'm often at a loss when trying to explain what my Milano means to me.  With highly rational people, the difficulty is compounded to a painful degree.  In Seattle, I took a first stab at explaining why I had flown from Detroit to Portland to buy a fervid expression of Italian design and engineering.  Mind you, this conversation typically arises after the curious party has failed to locate the concealed interior door release mechanism.  So, it's an uphill battle.
Moreover, how do you explain why, a month after your old Alfa Milano burned down your garage, crushing you emotionally, you bought another Alfa Milano?  One route is to cite the many unique attributes – Recaro seats, torsion bar front suspension, DeDion rear suspension, rear transaxle, all aluminum V6, roof-mounted window switches – but none of that is relatable to the non-enthusiast.  In cases where you don't expect a positive reception to your reasoning, it's sometimes easiest to disarm people with some red flags.  Give them reason to believe that you're a bit off, and they'll understand.  Though originally employed to make a much more important point, Dolphus Raymond put it best in To Kill A Mockingbird:
"if I weave a little and drink out of this sack, folks can say Dolphus Raymond's in the clutches of whiskey—that's why he won't change his ways. He can't help himself, that's why he lives the way he does"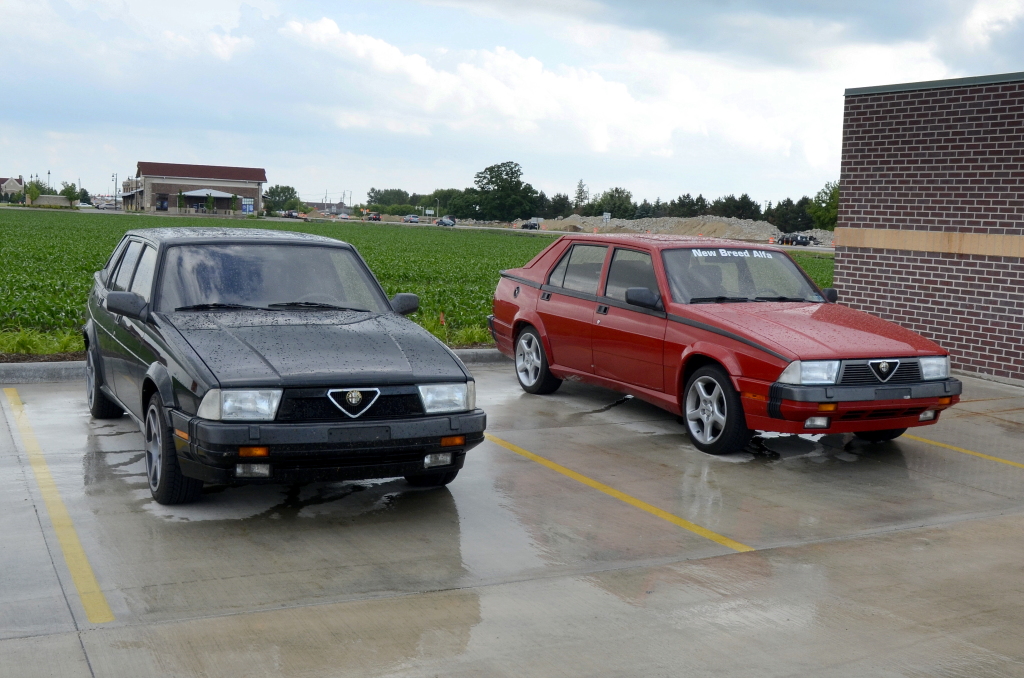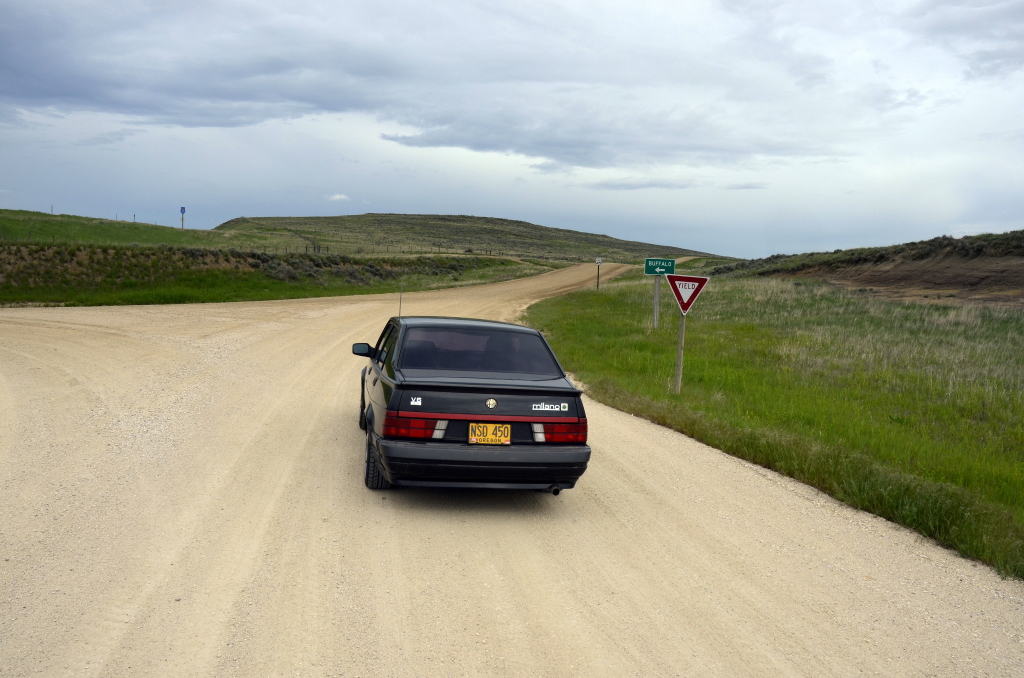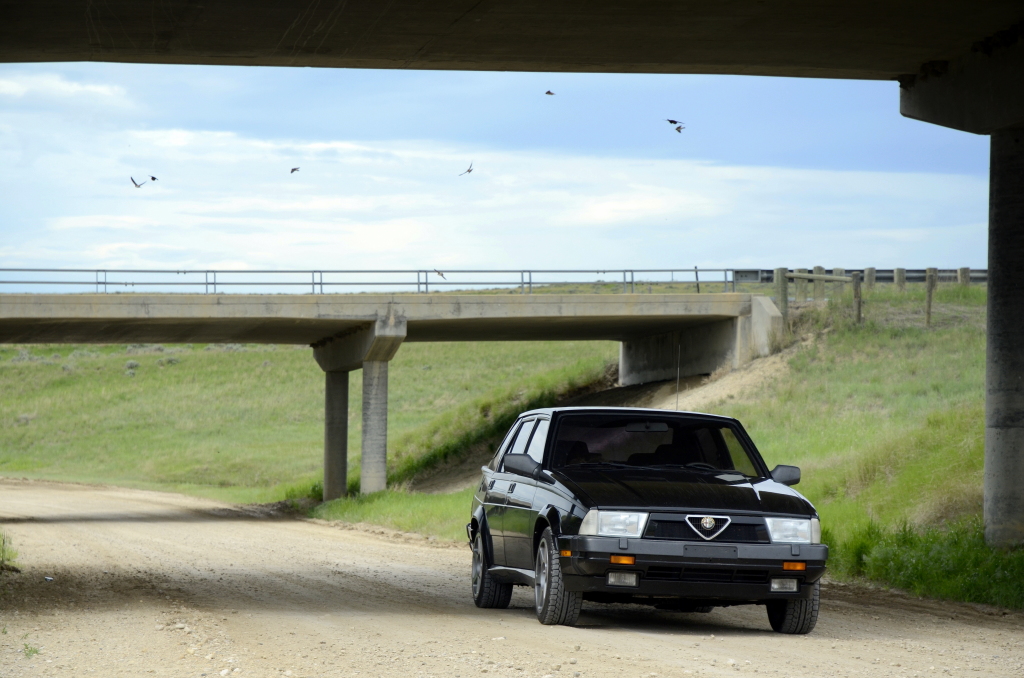 Just like reflexive rejection of the obscure, resolute devotion can be dangerous.  As difficult as it is for me to admit, my first doubt of the Milano platform came in the form of a Kia Soul as we made our twilight crossing of the Idaho panhandle along I-90.  Ultimate grip never came into play, but the altitude-stricken Busso V6 powering my Milano begged for every last bit of throttle to keep up with the Kia over hill and dale.  In the end it earned its keep, enabling our confusion of "I-90" with "90 mph speed limit".  Turbo guys won't understand, but I expect solidarity from Rocky Mountain BRZ drivers.
The Milano made it back to Michigan, where it awaits the construction of my new garage.  I've already put three times as many miles on it as I ever put on my old Milano, and yet, I feel like I barely know it.  This time, we're in less of a rush.  Once the new garage is up, we'll get acquainted, no doubt.