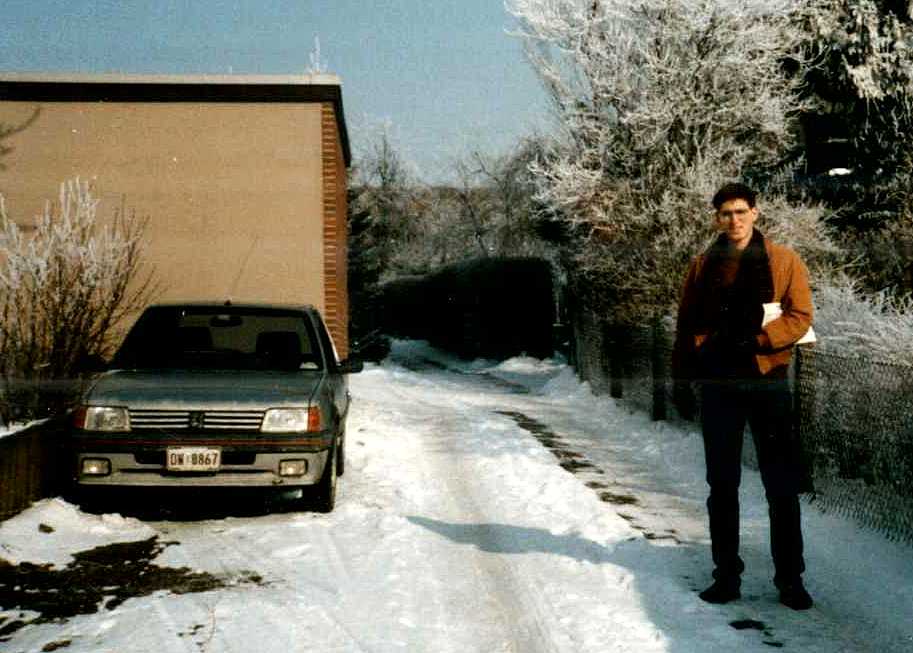 This occurrence began in typical, innocent, Autobahn 27 fashion.  I had been in Bremerhaven for work purposes, and now faced the drudgery of the roughly 50 km of Autobahn that separates Bremerhaven and our Bremen-Nord exit (Ausfahrt).  The expectation was for a relaxed drive, maybe in the 140 – 150 kph range that the Peugeot 205 GTI seemed to enjoy.  At those speeds, the 1.6 liter SOHC 8-valver and the Conti's hummed contentedly, and the notorious sidewinds (I'll try to establish their notoriety in an upcoming post, anyway) didn't affect stability too badly.
So there I was, minding my business, probably listening to Armed Forces Network (AFN), a Sting cassette, or maybe even  local media beamed from the Bremen Funkturm.  Even in this placid mode, A-27demanded full attention to windows, mirrors, and instruments.  Similar to NASCAR's tiny oval in Bristol, TN, Autobahn hazards come from any direction: inattentive passers ahead; left lane lords behind; ramp racers drifting from the sides; even  leghorn-worthy fog dropped from above – and can cause sudden driver input to the steering wheel, pedals, and shifter.
This drive was to feature none of those dangers, although the encounter would lead to application of a number of controls.  The approaching object in the rearview mirror seemed to carry a velocity differential of around 20 kph.  But as the car came alongside, it slowed to my speed, and a quick sideways glance revealed a grin-bearing driver looking at me: the universal signal to Go, whether at a stoplight or on the Autobahn.  So I dropped to fourth, scooted to redline, then continued into fifth.  We were probably nearing 180 kph when I noticed that the rear windscreen was fogged.  It was a rare sunny evening, but the oddity didn't register immediately, and I carefully extended my right fingers and nudged the wiper stalk.  The backward view became smeary, so I hit the washer button.  That worked for a bit, but the fogging soon returned.  Perplexed, I conceded the race to my smily friend and slowed to around 100 kph.  It was dawning on me that the Peugeot was making its own fog, but all gages were in normal ranges (other than the speedo being too low!).  By chance, a Rastplatz lay ahead, so I was able to pull in and survey the situation.  While not of Valdez proportions, the amount of fresh oil on the car's entire backside was alarming.  Checking the dipstick didn't ease the concern, as nothing registered.  I added my only extra – a half-filled liter of Shell – and weighed my options.  Cell phones didn't exist – heck, our armored brigade had only recently gotten its first fax machines – so I decided to take my chances and limp the car home for the remaining 15 or so km.  To the normal routine of checks & cautions, I added "listening for the engine to seize".  Arriving at Bremen-Nord, it dawned that the final approach along Bundesstrasse 270 would take me right past my Peugeot dealer, Autohaus Haensch.  Herr Haensch was there with his customary gruff greeting, and motioned me into the service area.  In college-German I explained what I'd just experienced, asked him to investigate, then used the showroom phone to call my wife for a ride.
The next day at work, I steeled myself for bad news.  I returned to the dealership after work, and Herr Haensch handed me a surprisingly painless invoice covering a camshaft seal, some labor, and 3+ liters of Shell oil.  He added a bit of admonishment at having driven the car with less than 2 liters remaining, plus a reminder that I probably wouldn't be as lucky next time.  I happily took my licks, paid the bill, and drove home.  The relief at having dodged a major meltdown lasting effect on my Autobahn speeds, for at least a week.
Previous: Nostalgia, Autobahn Style (a/k/a Highway Song?)