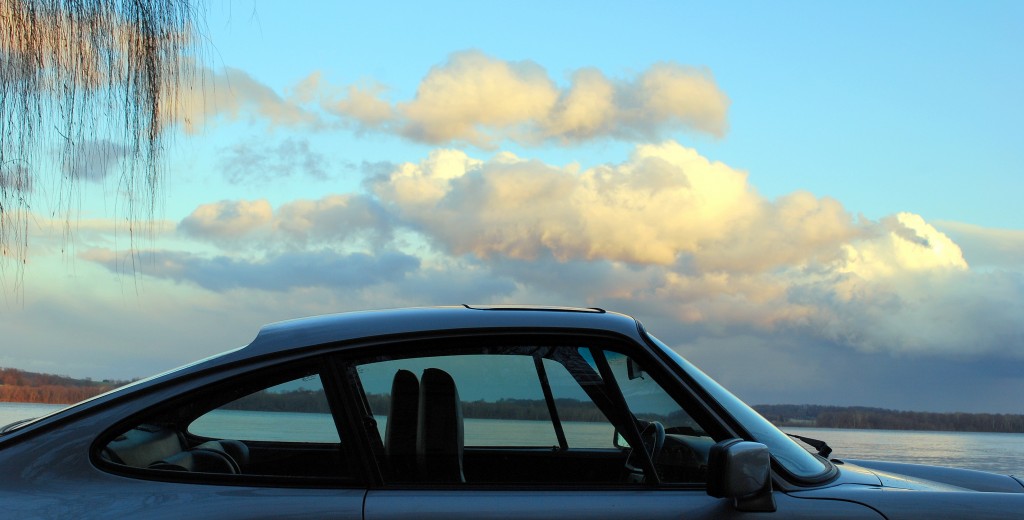 From Matt, the Blyth dad:
Central PA car blog posts should be about powerslides, emergency avoidance maneuvers around errant hay bales or road apples, impromptu buggy races, and the like. But this one post has to lay out the story behind a car purchase that was 28+ years to consummation.
My U.S. Army tour in northern Germany started in March 1985. Thankfully, the balloon never went up; as a result, other than countless cold nights on an M1 tank and later in a HMMWV, my most lasting memories mainly involve cars. How could I fight it? Within an hour of initially landing at Hamburg Flughafen, I was in the back seat of a Jetta sedan doing around 140 klicks on Autobahn 1. Timing of my arrival was mere days before a five-week field exercise and tank gunnery. But having nowhere to live right away, my initial quarters consisted of the floor of 1LT Mark Wiltse's apartment in Bremen-Vegesack. Ostensibly paired with Mark to get up to speed quickly on my duties, speed quickly took on other meaning. I had known Mark at West Point, where his red '82 Firebird was a hit. But Mark had succumbed to the Apfel-Korn, and was in the process of ordering a new M635CSi to replace the 'bird; most notably, the strong U.S. dollar brought his price to under $25,000. Mark's dark blue M-car proved to be stunning, and he also introduced me to a German lieutenant with an Oetteiger-engined Golf GTI , which I somehow finagled into borrowing for a weekend visit at my sister's near Dortmund. That's another story, but my Cold War was starting swimmingly, to say the least.
The five weeks in Grafenwoehr and Hohenfels came and went, and my next notable automotive encounter ultimately sowed the seeds of my November 2013 acquisition. Coca-Cola had sponsored a contest of some sort, with the grand prize a Coke-red 911. A Bremen family won, but decided to cash in, asking a "mere" 60,000 DM. That worked out to around nineteen large, tax exempt, and a fellow lieutenant and I studied a joint purchase. Reaching acceptable terms proved impossible, though, and the car slipped away.
Autobahn-fast forward around a year. My '83 Mustang GT convertible had arrived from the U.S., I had gotten married, so maybe it was time to put fun automotive thoughts to rest. Wrong! Every single day that I wasn't in the field, I intentionally took the longer way to and from work so I could spend 10 minutes flying along A-27 that links Bremen and Bremerhaven. My goal was for every good-weather drive to include 100+ mph speeds, and I had no problem achieving it. And luckily, my wife didn't clip my wings, so one Saturday as we danced her Peugeot 205 GTI into Bremen, I spotted a 288 GTO parked in the customer lot at Autohaus Schmidt + Koch on Stesemannstrasse. After a few photos of the Ferrari, we ventured into the dealership's used Audi section. Within a half hour, we were turbo-whistling down A1, watching the '83 Quattro's digital speedo blink up to 215 klicks. I was ready to buy, but the brown interior caused a spousal veto. But more spice awaited, and perhaps the world's most magnetic Porsche salesman – Herr Yungblut ("youngblood" in English, fittingly) – soon had us checking boxes on a new 911 order sheet. With both of us complete putty in his hands, my wife and I soon had the 911 optioned to near 90,000 DM, and it was going to be the same dark blue as Yungblut's sharkskin suit. Upon a painful mental recalibration from Mark Wiltse's M-exchange rate to the Dollar's slide by mid-1986, it struck me that replicating Mark's utter coolness would now cost $35,000+. So we sadly had to deny the devastatingly debonair daydream and drag ourselves out the door, seemingly never again to consider a Porsche.
By many standards, the next 24 years featured respectable cars in our garage – a couple of stick-shift five-door hatchbacks (Mazda 626 turbo, Saab 900); a 1999 Miata followed by a used 2002 TT for my wife; a used 1995.5 Audi S6 Avant; and a 2010 Jetta TDI Cup Edition . But a bit after turning 51, our lastborn flew the nest, and little signs began evidencing a mid-life crisis. I bought a pair of black Levi's, began listening to my kids' Vampire Weekend and Arcade Fire CD's, and even ran a half-marathon. On the other hand, I chased neither women nor craft beers – other than the must-have Otto's Apricot Wheat whenever I'm in State College. But then one day after taking in one too many tales of my sons' 1980's cars, it all came rushing back, and I knew that I had to have an Elfer for life. Deciding on which model initially caused consternation, but it quickly became crystal-clear that the car would have to be from our time in Germany. The next phase was unexpectedly un-fun, as prices for decent Carreras from '85-88 seemed to be rising daily; further, most failed my screening for a non-red, non-black, non-whaletail, sunroof coupe. This went on for a few weeks, but came to a surprise end a few days before I was scheduled to visit a customer in northern New Jersey.  During a blurred late-night online search, I typed "1988 911" into Craigslist for North Jersey.  To my dulled amazement, up popped a very original silver / black / clean-lid car, and after a pre-purchase inspection and some one-sided negotiating (the seller knew what a nice car he had, but the all-in damage was still less than Mark Wiltse's original M635 outlay), the car was mine before Thanksgiving.
So let's give thanks that I've gotten my life story off of my chest; hopefully, you're still hanging in there to read a bit about my initial experiences and upcoming life with the car.