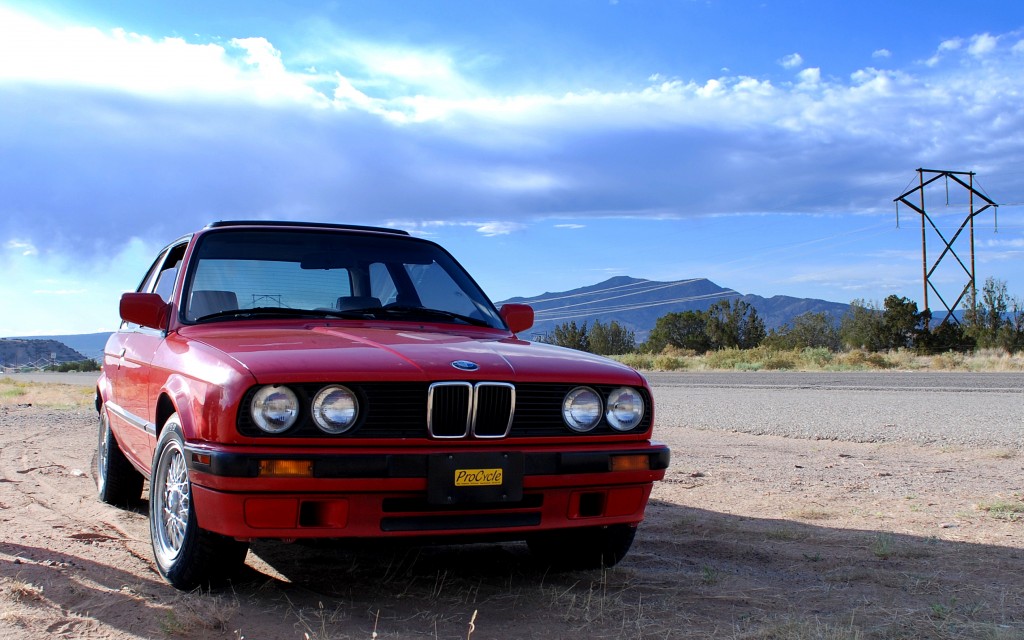 Old cars: buy the best example that you can afford, right? Unless you're actively seeking a project, that's the convention. So, imagine a listing for the car you want, at the price you like, where the only needs listed are "a wash and wax". I found that car last summer.
I'd been driving a 91 318is as a sort of winter and minor project car up until that point. I bought that thing for $1,500 and slowly worked through it to get it into shape. I swapped in a set of matching M3 seats, replaced the cracked dash, fixed the odometer, installed a headliner, and resealed all of the oil leaks – except for one. The rear main seal leaked oil onto the clutch periodically, and that caused some bothersome slipping. It may have been a worn clutch (I had a spare clutch and flywheel), but either way, I was going to have to pull the transmission, which takes a weekend of concerted effort. Factor in some heinous oil consumption through other avenues – valve stem seals, worn rings – and the car was starting to feel like a money sink. An Indiana and Chicago car for all of its life, rust and urban parking had taken their toll on the bodywork beyond the point where I was willing to hit the car with any sort of money hammer. I figured that it would be cheaper to just sell that car and find one with fewer and less severe needs.
A serious constraint on the purchasing timeline was my goal to take a 6,000 mile trip to Seattle and back with my girlfriend about a month later. I wanted a well-sorted 318is with A/C to take us across the country and back.  Even on my rougher 318is, I was seeing 32mpg highway on premium fuel – decent for a 1991 car with that much character.
Combing classifieds on the forums, I found the 318is I was looking for, boasting a 1" thick folder of maintenance records including Bilsteins, a new clutch, new tires, new driveshaft flex joints, new suspension bushings, and absolutely no needs, other than the "wash and wax" I mentioned before. The car checked out on the phone as well – ready to go.
Next thing I knew, I was looking down at the Sandia mountain range and about to land in Albuquerque New Mexico.  Not bad!  I absorbed the 80F heat in the shade as I waited for the seller to pick me up at the airport.
The car looked about as good as it had in the photos, but the seller had a nice sketch about him.  Now, my brother and I have a decent amount of gray hairs for our ages, but this guy seemed too gray to be the college student he claimed to be.  It almost seemed as though he had hit the sides of his head with some Touch of Gray to put off an experienced, but youthful vibe.  He didn't look anything like the chubby guy in the photo of his license he sent me to verify his identity.
Skinny/suave guy drove me to a compound that he was renting, let me check over the car, and handed me the keys.  He made sure to show me the oil that came out of the car on the last oil change.  It was black, like used oil.  I'm not sure what he was getting at, but he treated it as some sort of fetish.  I had to get a temp plate before picking up my dad at the airport, so I asked Touch of Gray for directions.  Basically, I just had to 'find Hooters and then drive a little bit.'
I finally got the car up to speed on the drive to the airport, and I noticed an intrusive vibration under load at around 70mph.  You know, the average speed of a road trip.  And, as my thighs began to stick to the cracked vinyl seats, I realized that the A/C was inoperable.  The sunroof required a hand out of the window pressing the wind deflector down in order to close, the windshield had a sizeable chip, the clear coat was peeling, and the gearbox was very reluctant to accept a shift into first.  Maybe this could have been avoided with a wash and wax!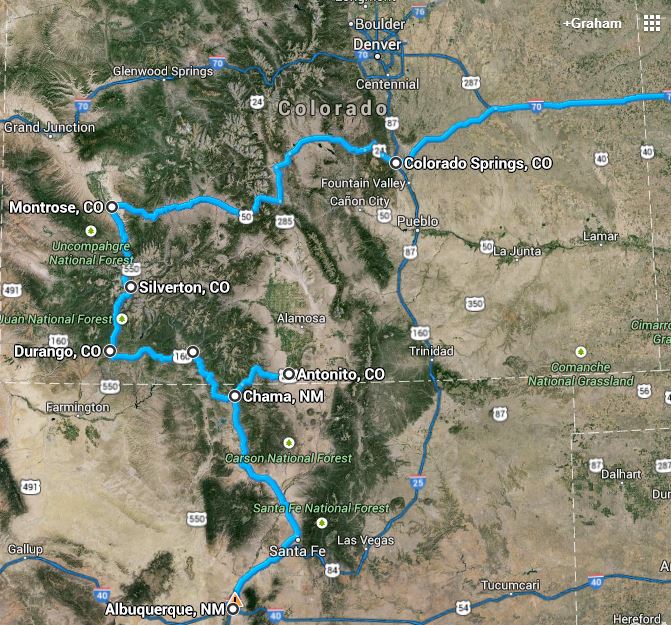 In short, I had done a terrible job of planning the purchase.  I asked all of the heavy mechanical questions on the phone, but the answers were all encouraging.  I really missed in two areas.  First, I paid the guy in advance so that he could mail me the title for me to get a temp plate.  That left me with scant leverage to negotiate once I bought a one-way ticket to New Mexico.  Second, I didn't ask when the maintenance items were completed.  It turned out that the most recent item was completed in 2002, and even the 'new' tires were over ten years old.
The car was driveable though, and my dad and I had a very scenic drive ahead of us.  Starting at 5PM, we made our way North up I-25 to Sante Fe, where we switched over to US 84 on our way to Pagosa Springs, CO.  We had planned on staying in Pagosa Springs for the night, but traveling in the dark with my dad asleep, I missed the signs in Chama, NM and mistakenly traveled up NM/CO 17 for a solid 60 miles.  I didn't think to check the map until a reached a T in the road, at which point I realized that I had spent an hour traveling in the wrong direction.  Fortunately for me, CO 17 was perfect for the soft 318is.  Switchbacks, tight esses, and powerful high beams made for a worthwhile venture off of the intended path.  By the time we got back to Chama, we stopped for the night, short of our Pagosa Springs goal.
By afternoon on the next day, we'd successfully navigated US 84 to Pagosa Springs, where we tried to find some rubber exhaust mounts to fix the vibration.  The e30 muffler rubber mounts are a somewhat unique design, so I didn't find anything close enough to buy, but as I'd find out later, the real issue was a loose universal joint and misalignment of the driveshaft.  Enjoying the mountains to the North, we crossed a scenic stretch of southern Colorado on US 160 as we continued on our way.
In Durango, we pointed the red Bimmer north, and started up US 550 to begin the most engaging section of the route.  US 550 travels right through the San Juan Mountains; the stretch between Silverton and Ouray, frequently called the "Million Dollar Highway" is lauded for its scenery and status as a top-tier driving road.  And, aside from the occasional Harley rider, the road does deliver.
The naturally aspirated M42 4-cylinder in the 318is, while tolerable in New Mexico, began to strain as it sought oxygen at the higher elevation.  With a 4.10 rear end, the puff of first gear was nothing more than a smoker's cough straight to redline.  The upshot was a heroic exhaust note out of every corner, but the power deficit from the already anemic four did detract from the driving experience.  There is a reason that mountain-bros drive turbocharged Subarus, and it's not just because they complement colorful sunglasses and sleeveless shirts well.
We picked up US 50 in Montrose to begin eastward to the Midwest.  US 50 courts the Gunnison River as it makes its way along the Gunnison River Valley.  Whereas US 550 was a focused sports car drive through the mountains, US 50 lends to a grand touring style of driving through its pleasant, but less extreme landscapes.  The 318is does fine as a touring car, but a 3.0CS or 850CSi would have been supreme on that stretch.  Later, the mountains reappeared as we approached the continental divide at Monarch Pass, the highest point on US 50.  Doing the math, that makes Monarch Pass the highest point on the loneliest highway in the USA.  Are loneliness and happiness mutually exclusive?  We would find out later on in Kansas.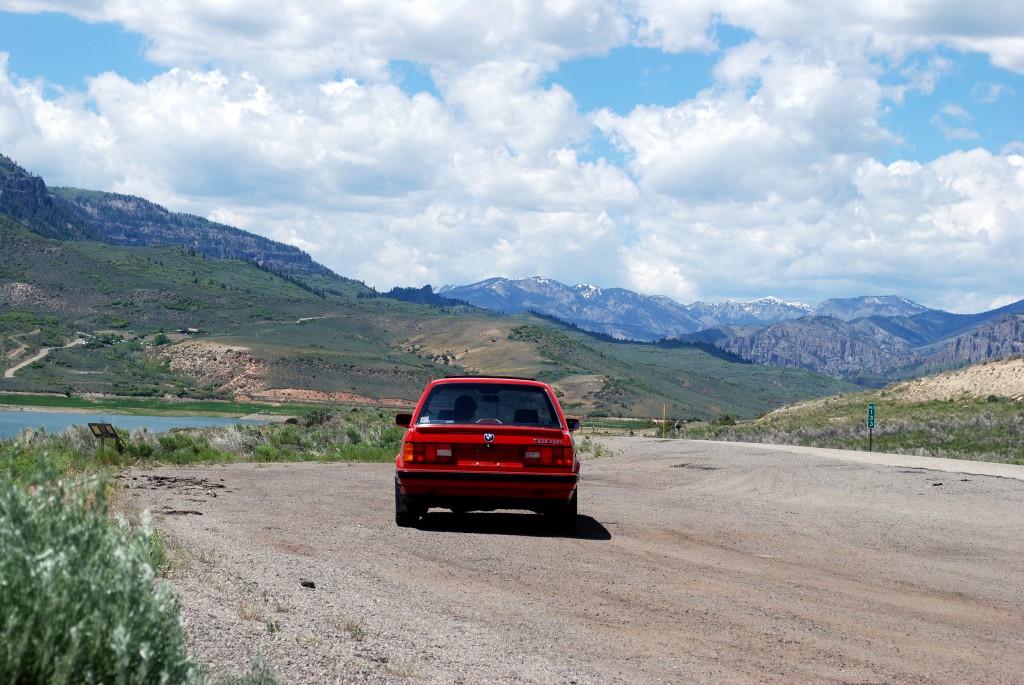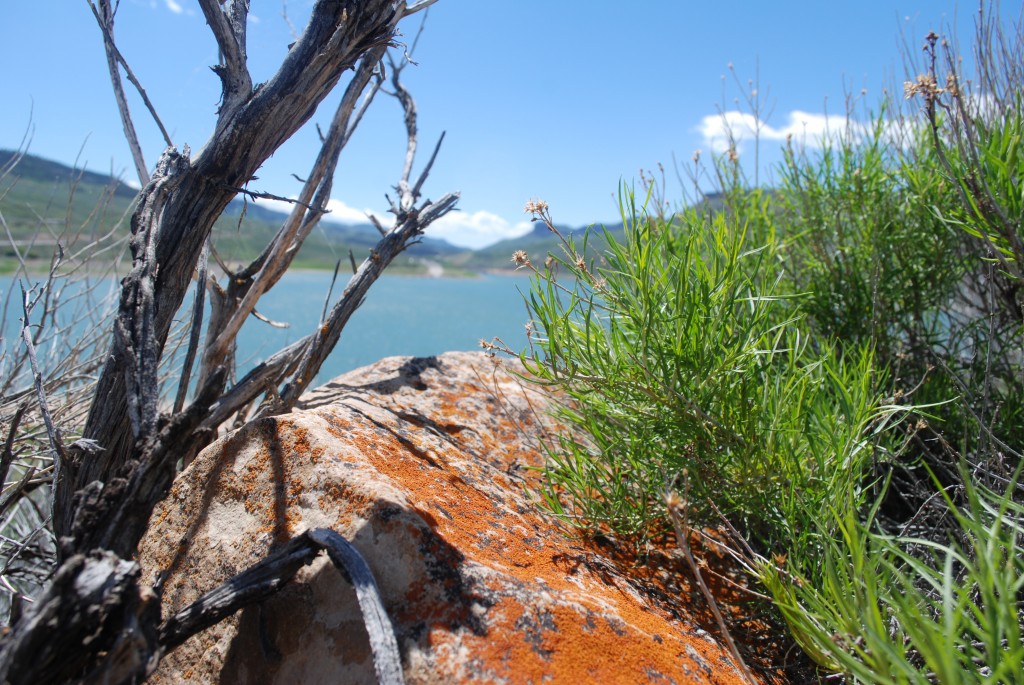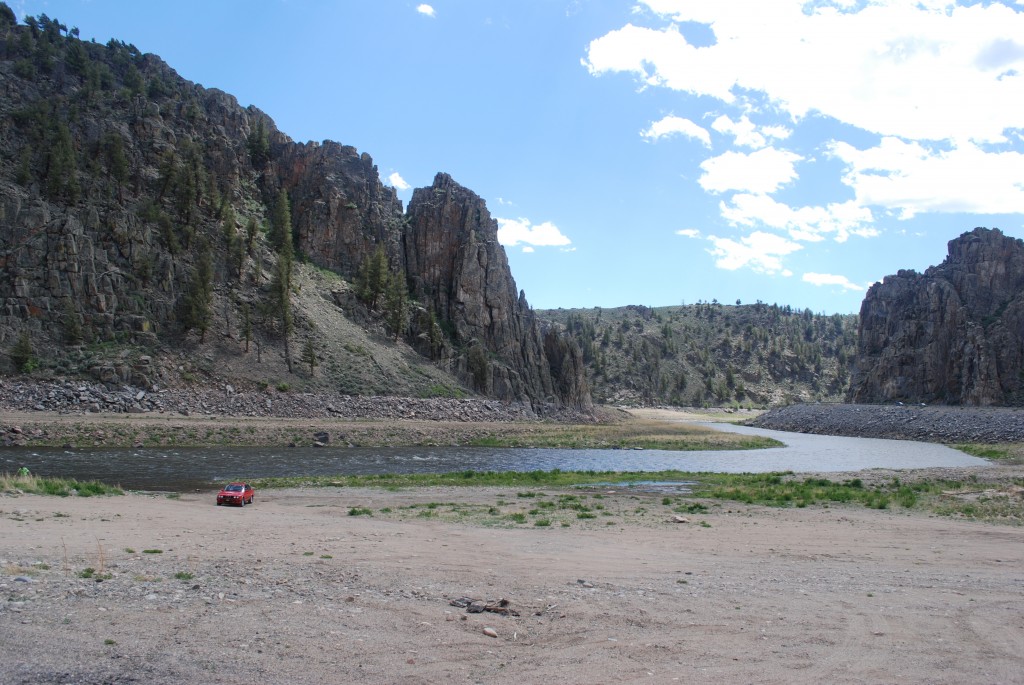 Descending into the Arkansas River valley, we made our way straight through Salida and diverted slightly right before reaching Cañon City.  Right outside of Cañon City is Skyline Drive, a one-way road, built by inmates in the early 1900s, that winds up and on top of a ridge overlooking Cañon City.  Do high school kids drive up the road the wrong way with their lights off at night?  I hope not, but it is reason enough not to have kids in Cañon City if you plan on keeping them around after age sixteen.  Safety concerns aside, the road does let out right into a residential area in Cañon City, which has a wide main street from an era past.  After the a traditional Blyth dinner at Pizza Madness in downtown Cañon City, we headed up CO 115 toward Colorado Springs.
We ran into brief rain showers outside of Colorado Springs, making for some beautiful reflections of the sunset in the pools of water on the road.  With the departure of light came an appropriate end to the Colorado scenery – the trip now became a matter of efficiently crossing the great plans in order to get back to Columbus, IN.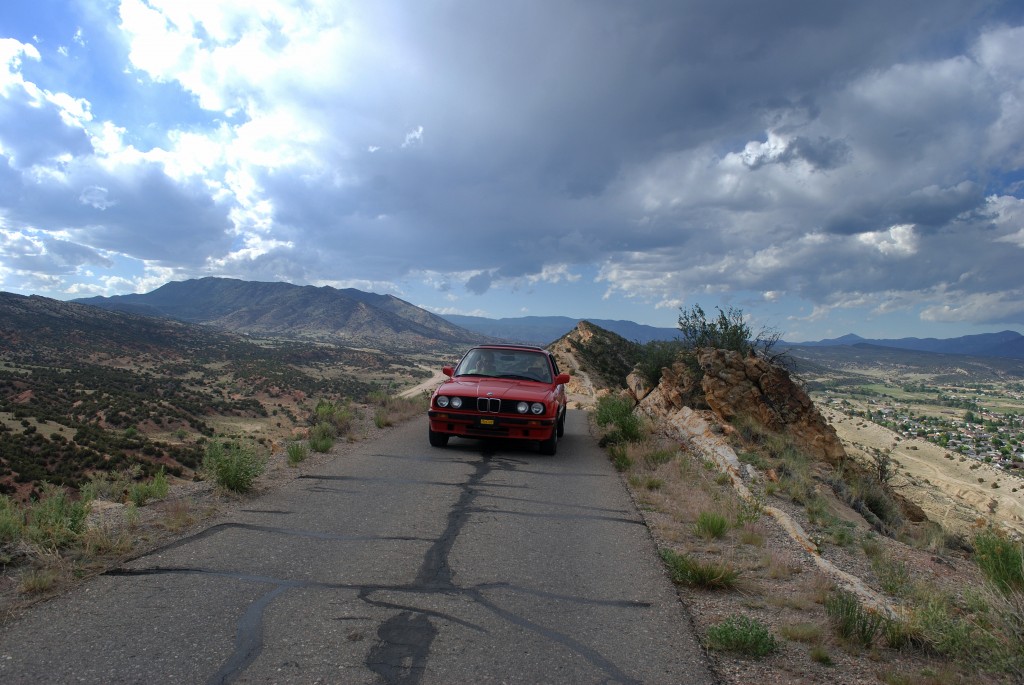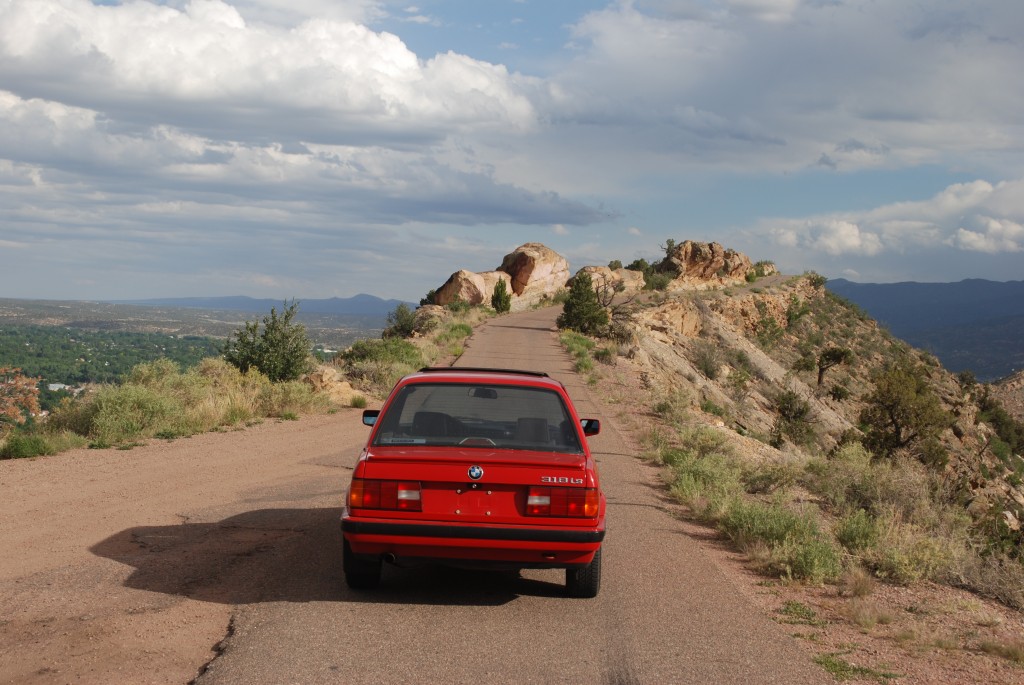 Eastern Colorado makes for a monumental feeling of isolation, which is priceless when desired, and pretty boring when you're more interested in making time.  We placed plenty of value in the journey itself, but after hours of flat darkness as we entered Kansas, the cabin got stuffy.  I even snapped a bit when my dad played too much Vampire Weekend – something about a drive across Kansas makes a chipper song about horchatas unpalatable.
Coming up short of my sleep-deprived goal of Salinas, we stopped for sleep in Hays, KS.  If the car had been equipped with cruise control, I could have just set the cruise and nodded off, but I wasn't so fortunate in my mere 4-cylinder model.  The next day, we were subjected to I-70 across Kansas, Missouri, Illinois and Indiana, as if to atone for the excellent driving the day before.
I listed the car for sale the week I got it home.  After fixing the driveshaft and replacing the tires, I only lost $200 in the transaction.  After taking a day off of work, buying a plane ticket, and losing $200 for my lack of foresight, I was in the black on my own terms.  I'd traveled 1,500 miles through one of my favorite tracts of the country with my dad in a near-classic BMW.  Success!