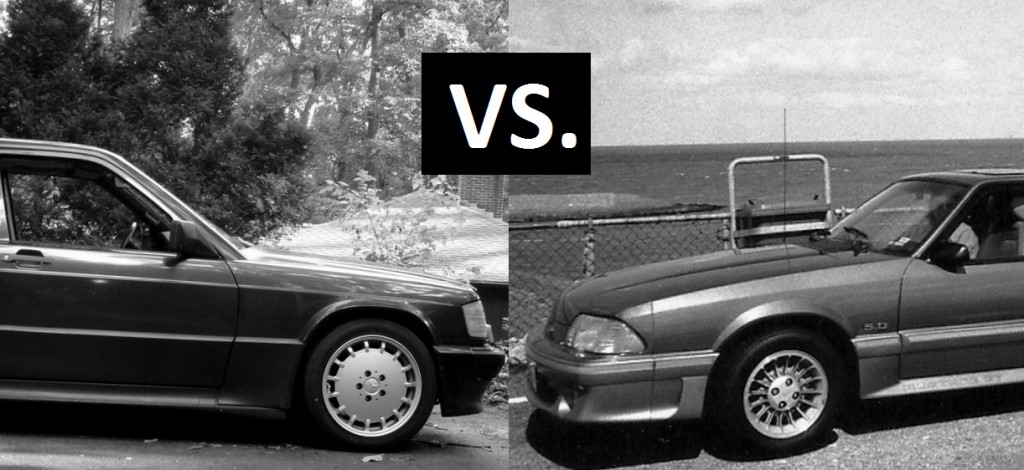 Nostalgia, Autobahn Style was an earlier posting in my Autobahn 27 series, and described an encounter that led to wishing for Interstates instead of Autobahnen.  To cast aside such twisted, fleeting blasphemy, this story aims to reinforce the best of Autobahn driving.
This vignette began in decidedly proletarian fashion, but evolved into a legendary drive that the author experienced vicariously.  Things started one late-spring Saturday morning in Bremen. Out of nowhere, my wife expressed a hankering for that little-known Northern German specialty, the "Patty Melt with Fries", best found at the Bremerhaven bowling alley.  So darn, the only solution was to drive up A-27 to the U.S. Army garrison to our north.  Double darn!  Would an amazing encounter erupt, with our Peugeot 205 GTI being lured into a dice with a wanton pack of 911's?  Hardly.  In fact, the drive of the day / month / three-year tour belonged to a Benzin-happy, Bondurant-schooled U.S. Army lieutenant, Ralph Moore.
Our trip northward was uneventful, in the 205's happiest 140 – 150 kph range.  Arriving at the Bremerhaven Kaserne, it wasn't quite lunchtime.  No problem – that gave impetus to stop at the PX, which had better variety than found in our local iteration.  Noodling through the '80's Liz Claiborne and Geoffrey Beene styles, we happened upon none other than Lt. Joel Williams, our buddy from 2-66 Armor Battalion.  Joel asked if we'd seen Lt. Moore anywhere, so we in turn asked Joel why he was asking.  It turned out that Joel and Ralph also had Bremerhaven in mind that day.  But with diverging plans afterwards, they decided upon a relatively gentle convoy up A-27, with Joel in his early-80's 280ZX and Ralph in his 1987-ish Mustang GT.  But "gentle" took the first Ausfahrt when a Mercedes Benz 190E 2.3-16 pulled alongside the pair and the driver signaled his challenge.  Joel knew the ZX's limits and his own, and deferred.  Ralph felt neither restriction, probably pinched himself briefly, then gave chase.  Thus, after watching the two Rasers disappear rapidly, destination unknown, Joel headed to the PX.
Figuring that we'd get the story from Ralph on Monday, Joel, my wife, and I traipsed over to the bowling alley for lunch.  Enjoying our mini-trip to the U.S. with Heinz (the ketchup, not a local lad) and the clatter of scattering pins, we were all   surprised when Ralph appeared, grinning uncontrollably.  Ralph will better unfold the story in first-person detail, hopefully as a guest blogger on BlythBros.  But I'll give away the gist of things:  the Mustang and the Cossie ran at absolutely top speed – 230 kph / 143 mph – until they simply ran out of Germany.  Yes, the duel was dashed by destination Cuxhaven, the North Sea port that's the terminus point for A-27.  Ralph reported that after the duel, he and the other Pilote stopped at the final Rastplatz.  Walking around each other's cars in wordless respect, they may even have opened their hoods for a glimpse at each steed's heart.  My memory fails as to whether they then reversed the run, with Ralph exiting at Bremerhaven.  Regardless, between the general set-up, the speeds, and their reason for concluding, this instantly became my favorite Autobahn story; topping it didn't occur until my last couple of weeks in-country (watch for future posting).  And I hope that my son doesn't try repeating it in his 2.3-16 somewhere in Pennsylvania, although if he does, I-79's Pittsburgh – Erie portion would provide a parallel pitch on which to play.
Mustang image credit goes to Ralph at The Cars of Ralph